12×12″ Classic Kit
$59
Most popular custom paint by numbers kit includes everything you need to make a masterpiece. 12×12″ Classic Kit is the perfect size for hours of fun. Personalized paint by number with stunning results!
Paint by number kit includes:
Artist canvas
Numbered acrylic paint set
(2) Artist detail brushes
Instructions and tips
UPC

665548303565
| | |
| --- | --- |
| Weight | 1.14 lbs |
| Dimensions | 12 × .75 × 12 in |
FAQs
Can I submit an image I found online?
The general rule for submitting a photo for processing is that you must be the owner of the image. If you do not own the image, please obtain permission from the owner and provide the proper authorization with your order.
What is Pattern style?
Pattern style refers to customizing the detail level of your paint by number. Simple patterns have fewer details with minimal shades of color resulting in an abstract impression of your photograph. Detailed patterns include many fine details for a photo realistic result.
What are the Palette options?
Palettes are sets of acrylic paint colors with specific color combinations that render an artistic result:
Classic Color palette includes 42 colors for a photo realistic result (not available in Mini Kit size)
Vintage palette includes 18 neutral colors for a vintage, sepia tone result
Artsy palette includes 28 colors and photos are styled with a pop-art effect
Black & White palette includes 8 shades of black/white/gray for an abstract, high-contrast effect
Cool palette includes 13 shades of blues/grays/white for a monochromatic effect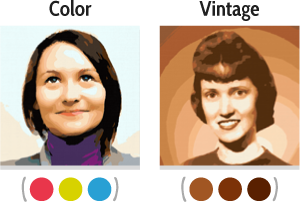 What are some tips for choosing a photo?
The quality of your photo determines the final result of the painting, so it's important to choose a suitable image to achieve a quality result.
Choose a clear, crisp photo with contrast between subjects and background
Close-up images, face only or head/shoulders work best
Mini kits are best with photos of only 1 subject, face only
Classic kits, choose close-up photos with 1 or 2 people
Big Kits work well with images of many subjects and details
Main subject(s) within your photograph should be 2/3 of the entire image
No images that are overexposed with too much light, or not enough light or blurry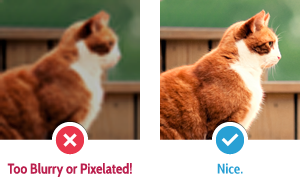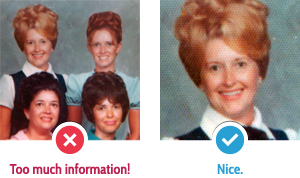 Can I crop my photo?
The crop tool is available after a photo is uploaded. For best results, crop your photo so the main subject is 2/3 of the entire image.